UV-C is a proven disinfecting technology used effectively against viruses, bacteria, mold, and allergens¹. It has been used in the sanitization of hospitals, airplanes, food, and water for over 100 years. Professional medical-grade UV-C products are the obvious sanitization choice because it is the quick and easy cleaning method that doesn't require chemicals, heat, or waste products.
UV-C technology used to be cost-prohibitive and only available for commercial use, but now you can safely sanitize surfaces and the air around you targeting microorganisms at the molecular level.
Ultra-violet rays easily penetrate through the cell walls of bio-contaminants (germs) into the molecular structure of their DNA & RNA (nucleic acids). This effectively leaves them unable to perform vital cellular functions, replicate, and cause illness. This means bad news germs, but good news for you! Our products have taken this UV-C technology to help you and your loved ones stay safe and protected.
Science-Backed Test Results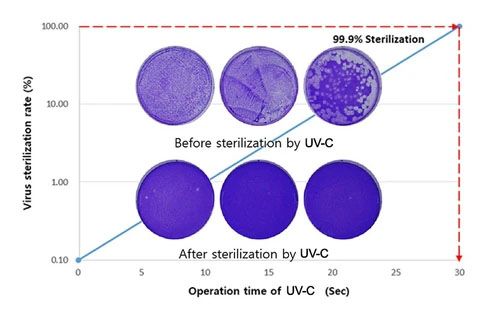 Don't Just Clean, UVClean.
Germs suck. Utilize the cleaning power of nature by using the sun's UV-rays to sanitize an entire room (up to 800 square feet) in just minutes. UV-C light neutralizes microorganisms at a cellular level, preventing the spread of illness. Now you can use the same technology trusted for decades by hospitals, laboratories, and water sanitation plants to keep you and your loved ones safe and healthy.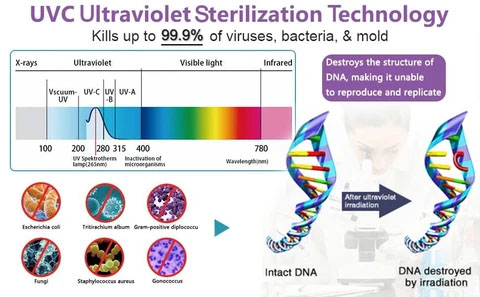 References
Image Reference: [2] Global Lighting Association LED-Professional "Safety Guidelines for UV-C Disinfecting Devices" from Seoul Semiconductor Jun 02, 2020
Article Reference: [1] https://www.ncbi.nlm.nih.gov/pmc/articles/PMC3831650